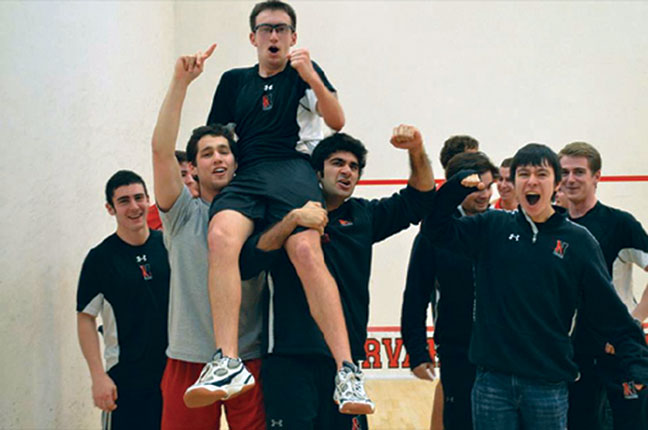 Marion resident TJ Dyer is carried off the squash court at Harvard University after winning the deciding match in #1 position as Northeastern defeats Boston College 5-4 in tense finals of Men's College Squash Nationals – Division E.
The Chaffee Cup (Div.E) involved the last division final scheduled for the tournament.  Neither Northeastern nor Boston College was going to go home early.  All three of the contests in the first flight of matches went to four games.  BC led 2-1 after the first flight of matches, and they went up 4 – 2 after the second flight.  Northeastern needed to win every remaining match, and they did, sweeping the final three matches 3-0.  The final score was Northeastern 5, Boston College 4.
Dyer's match was the last one in a long day of matches featuring several divisions at Harvard's Murr Center on Feb. 16, 2014.
TJ Dyer, a 2010 Tabor Academy graduate, is also the first inductee into the Marion-based Hockey Unlimited's Hall of Fame, where he is an Assistant Coach.