Last Wednesday, the Old Rochester Regional High School National Honor Society hosted an Honor Bowl. The Honor Bowl is a trivia competition between National Honor Societies from all the schools in the South Coast Conference. There are three Honor Bowls per school year, each with three rounds and three schools participating. Last week, ORR was the victorious team.
This was a great way for ORR's NHS to end the third and final Honor Bowl of the year, considering they also won the second Honor Bowl. Although ORR won the most rounds, there will be no official awards, since the Honor Bowl is not known to be an aggressively competitive challenge. "It's just great for everybody to come together," said Sarabeth Morrell, ORR's NHS advisor.
"The best Honor Bowl we had this year was when each school won a round," said Morrell, recalling the first Honor Bowl of the year at the Greater New Bedford Regional Vocational-Technical High School, which ended in a tie. "Everybody felt good about themselves, and it was very collegial, very fun."
The trivia questions in each Honor Bowl cover a wide range of topics: literature, history, sports, religion, pop culture, math, geography, etc. Students need to be well-rounded in order to succeed in these competitions.
"We were psyched at this last bowl," said Morrell, "There were questions about 1984, about Hamlet, about Of Mice and Men – all which students had read very recently."
When it comes to the pop culture questions, it seems many of them are a bit out of date. "I don't know who writes them, but they do a lot of generational questions – like from the 50s and stuff – that we would never know," said Leah Thomas, a senior at ORR and member of the Honor Bowl's winning team.
The other members of ORR's team were John Hewitt, Emily Audet, Kati Sethares, Brianna Perry, Michael Wyman, Justin Smilan, Morgan Collings, and Nick Iacovelli – all seniors and members of NHS. Only four students are allowed to participate at a time, so the team substitutes students between rounds.
With such a wide range of trivia questions, there isn't a very efficient way to prepare for the Honor Bowl. Thomas, however, has found that watching Jeopardy every night has been beneficial. "I know Leah Thomas, who has played, loves Jeopardy," Morrell recalled, laughing, "so I think she's been practicing for this her whole life!"
Next year, ORR will have new NHS members and a new Honor Bowl team. Since NHS is only comprised of seniors, the juniors often have no idea what to expect from the Honor Bowl. To ease this anxiety, Morrell invited juniors to observe last Wednesday's competition. "I had one of next year's NHS members come and watch the Honor Bowl," Morrell said, "Chloe Riley came and scoped out what to do for next year."
In other news, the ORR drama club successfully performed Seussical the Musical last April 3, 4, 5, and 6. Families, friends, and community members filled ORR's auditorium each night to enjoy the cast and crew's colorful performance.
By Renae Reints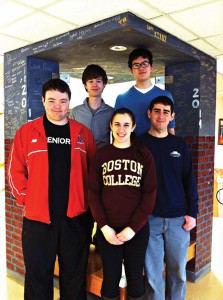 ORR's team won at last week's National Honor Society's Honor Bowl. Pictured here are members of the winning team. Top row left to right: John Hewitt, Justin Smilan. Bottom row left to right: Morgan Collings, Leah Thomas, Nick Iacovelli. Not pictured: Emily Audet, Kati Sethares, Brianna Perry, Michael Wyman. Photo by Renae Reints.