ORRHS's Journalism class was selected to attend a journalism conference in Boston on Thursday, April 4. On the Suffolk University campus, the conference takes applications from high school newspapers to attend the conference and compete to win a number of awards.
ORRHS's Journalism class, the Paw Prints staff, applied in December. By sending in a few different issues from that year, they are judged on a number of criteria, ranging from layout to the quality of writing to how closely the paper adheres to the journalism code of ethics. While not every paper will win an award, all papers that are thought to be of high quality are invited to join the conference.
The conference will include a dinner, a still unreleased Keynote Speaker, group discussions over numerous topics concerning different areas of journalism and, at the end of the night, an award ceremony. The aim of the conference is to gather young journalists in acknowledgment of their hard work through the year while holding an informative conference for the benefit of each journalist's writing.
The Paw Prints staff will leave school early on Thursday and carpool to the Middleboro/Lakeville train station. The staff and chaperones will take the train into Boston for the conference, then take the train home that night.
This is the first time ORR has been invited to the conference in two years.
By Jessica Correia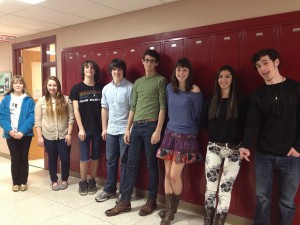 Journalists attending the conference, from left to right:   Evelyn Murdock, Rose Haznar, Isaiah Kidney, Steven McIntyre, Samuel Resendes, Anne Roseman, Mia Resendes, and Cory Miranda