Editors note: This story has been serialized into six parts which will appear weekly in The Wanderer and at wanderer.com
•Click Here to Read Part Three
By Rudd Wyman
Part V
I am about to go outside the tent for a smoke, and am approached by a distinguished-looking gentleman in Randy boat shoes, with dyed red hair poking from a signature baseball cap reading "Coed Naked Volleyball."
"My name is Henry Wiggington," he says, "and I am an old sailing buddy of Bob's. I have enjoyed your magazine essays: 'Shark Hunter's Guide for Dummies' and 'Sailing for the Heluvit.'
"I would like to ask you if you truly believe everything that you write about."
This was not a direct question, and I took the offensive: "Are you truly into volleyball?" "The hat is a disguise," he says. "I teach a journalism course at Harvard, emphasis on creativity. In September, my class will focus on juvenile behavior and teenage awareness." Peering at me over a bulbous nose, Wigginton continues. "Harvard will pay you to chair a three-day workshop on creativity."
He hands me a colorful business card: "Henry Wiggington, Coed Volleyball for Mature Adults." I wonder: wrong card?
I am aware that Henry is not after my autograph, and, smelling smoke in the cockpit, I intend to ask Bob about Wigginton's shenanigans.
My war hero friend is a respected businessman in Norfolk, his Winter home, and he is the architect of a well-publicized aerial photo of Point Connett.Rain has held off, and Bob, on the seawall, is sipping a Sam Adams while enjoying the serenity of a few quiet moments away from the tent. I applaud that the blowfish remain gone, and we reminisce about a sword fishing adventure off Noman's aboard his Tashtigo. There were beach buggy trips in my World War II Jeep, Weegetum, catching striped bass. Fishing has been an important factor to relieve my friend of postwar stress. "Is Henry Wigginton a friend of yours?" I ask Bob.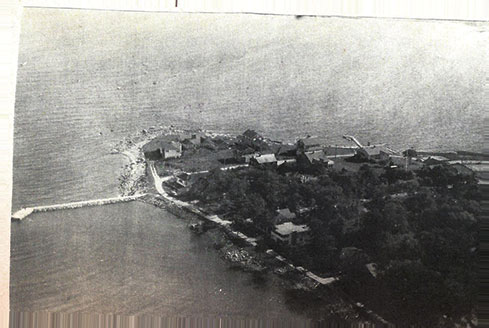 "Hanky Panky? He is a good person, Rudd, and crewed for me before the war," Bob says. "However, Hanky lies a lot, and has frequent delusions of grandeur. In June, Hanky was held hostage by aliens, escaped, and he was captured by the Mattapoisett Police when he ran a red light on Route 6."
I tell Bob that tonight Hanky is a Harvard Professor drumming up a midnight volleyball game.
My daughter, Sarah, a beautiful social butterfly, appears and asks, "Anyone up for a game of friendly volleyball?"
"You saw the hat!" I said, and we both laugh.
As Ralph Waldo Emerson said, "Life is a succession of lessons, which must be lived to be understood." I recall an unexpected, shocking experience while power-sanding a wooden boat barefoot on wet grass, and wonder how I survived to possess a loving family.
While philosophizing, my son (Steve) and Jill's son (Jim) return from Angelica, each hefting a keeper striper.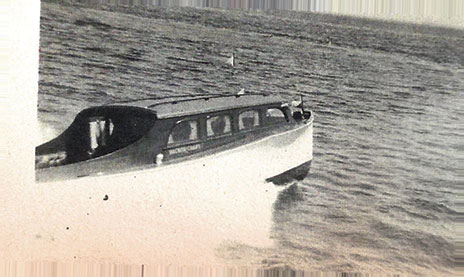 During the 1940s and 1950s, striper fishing from Dad's 28-foot Hackercraft was an exciting challenge.  At this time, So-Ho may have been the fastest cabin cruiser on Buzzards Bay. Sleeping four, my family had delightful weekend trips across the Bay, through one of three holes, to Tarpaulin Cove, Hadley Harbor and Cutty Hunk. We cruised along side of the New York Yacht Club, with America's Cup defenders, when beautiful ships sailed into Mattapoisett Harbor.
At an early age, I gained respect for the ocean, a fact that must have impressed both Andy Anderson and my Dad. Returning to Point Connett after a Boston trip, where my folks shared fog bound adventures with a crew of Amish people aboard a black schooner, we approached the East entrance to the Canal, and a routine entry. However, about halfway through suddenly waves hit So-Ho from every direction. Mom and I dawned life preservers as a waterfall of sea crashed through the windshield knocking off Dad's glasses. Pots, pans, boxes, and oranges floated on the cabin floor as we plowed into a mountain of angry sea. To avoid being bowled over, Dad kept the bow straight into the turbulent water as any variation to Port or to Starboard would have been a certain knockdown. Finally, upon entering Buzzards Bay, there was a calm conclusion to a frightful experience for a young sailor and parents.
Continued Next Week
•Click Here to Read Part Three