It looked as if, for a moment, that Richie Phillips would not be allowed to play football in his senior year of high school.
Phillips, who transferred from Wareham High School last year, repeated his junior year when he switched schools. This made the 2013 football season his 5th year of high school football, which the Massachusetts Interscholastic Athletic Association does not permit unless a waiver is applied for. After being denied ineligible twice by the MIAA, Phillips was finally cleared two weeks ago and was given the thumbs up to start playing in contested games for the Bulldogs. After a modest one-touchdown opener against Bourne last week, Phillips showed his true value against GNB Voc-Tech, where he carried the Bulldogs to a 35-12 win.
Phillips rushed for 146 yards and four of the team's five touchdowns. His most impressive play was in the second quarter, where he recovered a Voc-Tech fumble at ORR's own two-yard line. After scooping up the loose ball, he sprinted down the field for a 98-yard touchdown return. Then, after Old Rochester recovered another fumble on the next kickoff, Phillips would score again, this time on a 33-yard rush. Senior Hayden Bergeron scored the other remaining touchdown off of a 12-yard pass from his brother Nolan Bergeron. The Bulldogs also had three interceptions on the night, two of which came from Raekwon Phillips. With the three interceptions, the Bulldogs defense forced a total 5 turnovers. This week, the boys have a bye, and will be preparing for a game on Friday, October 11, at Dighton Rehoboth High School.
The golf team had a pretty good week, winning two of their three matches. The first victory came against Wareham High School, where the boys, led by Jacob Durocher, won 148-92. Durocher shot a one-over-par 36, while juniors Kyle Sherman and Zach Peterson went two and three for the Bulldogs, shooting a 37 and 39, respectively. Later in the week, the boys had to face undefeated conference rival Apponequet High School, where they narrowly lost, 155-143. Peterson had the best score of the day for the Bulldogs with a 41, and senior Nic Suprenant pitched in with a 42, but it was not enough to give the Bulldogs the win. Later that week, they won their seventh match of the season against GNB Voc-Tech.
The girls' volleyball team continues to face struggles due to a lack of varsity experience. The girls lost all three of their games this week to opponents in Bourne, Case, and Seekonk. The girls have strong players in seniors Juliana Nicolosi and Curran Desjardins, junior Alexis Lincoln, and sophomore Maddie Lee, but have yet to win a game due to a lack of experience and a multitude of underclassmen.
The boys' soccer team has finally seemed to hit their stride, winning games against Seekonk, Bourne, and Case this week. Senior transfer Jack Smith was quick to score his first two varsity goals of his Old Rochester career this week, and seniors Robby Magee and Alden Truesdale are helping to lead a primarily young team to more wins.
Below are the overall team records, followed by the conference records in wins, ties, and losses as of September 29.
Football: (4-0-0) (4-0-0) Field Hockey: (6-3-1) (6-1-1) Girls' Soccer: (6-3-1) (5-3-0) Boys' Soccer: (6-2-2) (5-2-2) Golf: (7-0-4) (7-0-4) Volleyball: (0-0-9) (0-0-9) Boys Cross Country: (2-0-0) (2-0-0) Girls Cross Country (2-0-0) (2-0-0)
By Michael Kassabian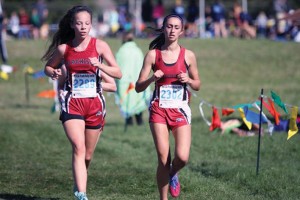 Emily Josephson (left) and Rachel Scheub have helped lead the ORR Girls Cross Country team to a 2-0 record in the early going. Photo by Michael Kassabian.